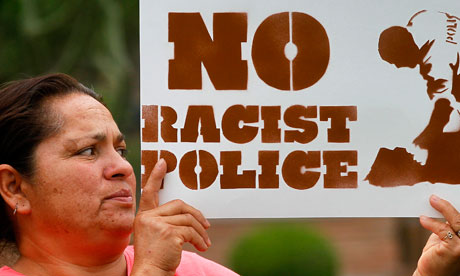 While many focused on the US supreme court's consideration of Arizona's SB1070 on Wednesday, events on the real viagra for sale streets of Phoenix and not in the court, foreshadow the future of the country's immigration debate. Within the supreme court, a very narrow legal principle was discussed – as to cheap viagra online prescription whether Arizona was infringing on levitra no doctor the federal government's right to set immigration policy. In Phoenix, hundreds of demonstrators were clear about what was really at stake in the high court: a negative decision would clearly worsen Arizona's human rights crisis, but even a positive ruling would not solve it.
The simple fact is that SB1070 is merely a symptom of best propecia a far greater problem in Arizona where anti-immigrant sentiment has been used as an excuse to codify racism. Despite its repugnant stated intent to wage a war of attrition against immigrants, SB1070 at its core suggests that people who aren't white have a lesser right to be an American. It's a view that is spreading throughout the country, and it's a view that is threatening our proudest tradition as a nation of immigrants.
In Phoenix, this Wednesday hundreds gathered for a march that was led by a child carrying a banner that read La Lucha Sigue ("The Struggle Continues"). The march made stops at a number of key sites that represent the human rights crisis, including the downtown courthouse and generic viagra super active plus notably the federal Immigration and Customs Enforcement's (ICE) offices, the agency responsible for deporting more than 1 million people under the where to buy cialis in ny Obama administration. The march ended when nine protestors occupied the street in front of ICE and unfurled a banner demanding the federal government stop the deportations. Their message was clear: whether it's state-sponsored hate bills like SB1070 or the federal government's own deportation policies, immigrant communities across the country will resist and indeed break unjust laws that criminalize and separate communities.
So, while pundits in Washington, DC sought to gain political advantage from the narrow debate about SB1070, people in Arizona mobilized to hold both parties, and the buy canada in levitra country, accountable. Before SB1070 was passed, the Latino and immigrant community in Arizona was already facing mass deportations, egregious racial profiling, and state-sanctioned terror. This happened not because of SB1070, but rather through federal deportation programs like the "Secure Communities" program, a cornerstone of the Obama administration's immigration policy. As the Orwellian character of cheapest prices for viagra online its name implies, "Secure Communities" actually makes people like me, a Latina with immigrant parents, feel insecure, and makes our communities less safe.
The events in Phoenix made two things clear: if the US supreme courtsides with the overtly racist Arizona law, it will lead to more robust organizing among the Latino and immigrant community – and surely more acts of civil disobedience like the one this week. It will further prove that there's an obvious gap between what is legal and what is just. Even if the court rules favorably toward the federal government, immigrant communities in Arizona and elsewhere will continue to discount viagra perscription drug urge the Obama administration to put an end to the deportation policies that have led to the "Arizonification" of the rest of the country. As the banner in this week's march foreshadowed, "La lucha sigue."

Originally Posted at http://www.guardian.co.uk/commentisfree/cifamerica/2012/apr/27/arizonification-us-immigration-debate